Monster Phonics
Welcome to our section based on our phonics scheme, Monster Phonics. Please use the links in this section to find out more about how we use the DfE approved 'Monster Phonics' programme.
What is the Monster Phonics Approach?
Monster Phonics is a highly engaging, structured, synthetic phonics programme. It facilitates learning by using monsters to group graphemes for recall and act as an easy and fun memory cue for children. It also uses colour-coding to highlight the grapheme when teaching a new grapheme. Once taught and secure, the colour is removed.
Monster Phonics matches the Reception EYFS framework and KS1 Spelling Curriculum. It progresses from simple to more complex phonic knowledge and skills, building on prior knowledge. The main principles of systematic synthetic phonics teaching are followed, allowing children to become confident and successful readers, spellers and writers from a very early stage in their school life.
Each monster has a backstory, and these are used in all areas of the phonics programme. Ten monsters and corresponding colours represent the areas of phonics that present the biggest obstacles to learning. Each of these are outlined below:
The Alternative Graphemes for Long Vowel Phonemes
The long A phoneme is made by the red character called Angry Red A. The graphemes that make the long A phoneme are coloured red.
The long E phoneme is made by the green character called Green Froggy. The graphemes that make the long E phoneme are coloured green.
The long I phoneme is made by the yellow I character called Yellow I. The graphemes that make the long I sound are coloured yellow.
The long O phoneme is made by the pink character called Miss Oh No. The graphemes that make the long O sound are coloured pink.
The long U phoneme is made by the purple character called U-Hoo. The graphemes that make the long U sound are coloured purple.
The long oo phoneme is made by the blue character called Cool Blue. The graphemes that make the long oo sound are coloured blue.
The long ow phoneme is made by the brown character called Brown Owl. The graphemes that make the long ow sound is coloured brown.
Silent letters are represented by the Silent Ghosts which make no sound. They are coloured white.
The Tricky Letters are graphemes that have a different phoneme from what has been taught previously. They do not show regular grapheme-phoneme correspondence.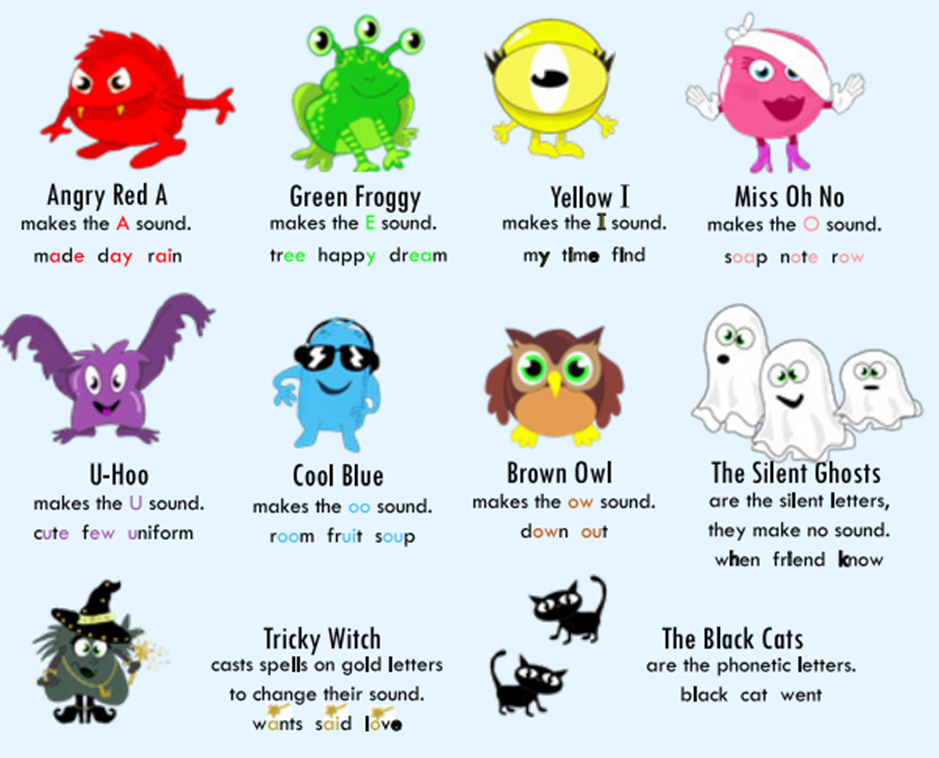 The staff link for phonics is Mrs Bilham. If you would like any information that is not published on our website, please do not hesitate to contact your child's class teacher or Mrs Bilham using the following e-mail address: clare.bilham@putnoeprimary.co.uk.
Please use this link to find out how you can support at home. At the bottom of this page are three progression documents: one for Reception, another for Year 1 and a final one for Year 2.